---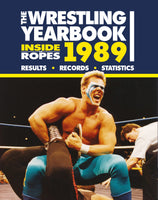 The Wrestling Yearbook 1989 [FORMERLY ITR ALMANAC]
Regular price $19.41
Tax included.
***PRE-ORDER - AVAILABLE IN LATE NOVEMBER***
The Inside The Ropes Wrestling Almanac 1989-90 is back - redesigned and with a new name!
Now known as The Wrestling Yearbook, with a new larger paper size for ease of use this 320-page classic 1989 edition is the first of our re-releases of the ITR Almanac in the new format, expanded and with new information added from the original.
The Wrestling Yearbook is the sport's foremost book of record, faithfully chronicling decades of tradition and evolution.

The 1989 edition is the first in our retro series of yearbooks, in which we go back and document a classic year in wrestling history in painstaking detail. Our goal is to ensure that the rich history of our great sport does not become lost to time, and lives on eternally via the written word.

Revamped with a new format that makes The Wrestling Yearbook easier to use than ever, the 1989 edition is crammed with facts, figures, records and statistics. Included within:

The biggest news stories of the year
Complete television results from WWF, NWA, AWA, USWA, Stampede and GLOW
1989 supercard reviews from Findlay Martin and Dante Richardson
Comprehensive television ratings
Title histories for all major promotions of the era
Major arena and international results
Over 150 in-depth wrestler bios, featuring career records, title histories, family ties, statistics and detailed 1989 match records
Expanded historical tournament records
At-a-glace five-star match guides from Dave Meltzer, Scott Keith and The Wrestling Yearbook
Historic award winners
Comprehensive WWF VHS match listings and tape ratings, from 1985-1989
Massively expanded and revamped Historical Shows section featuring results from over 1,000 worldwide cards from the 1900s through to 1989, ratings for hundreds of major cards, and thousands of matches reviewed
Extensive In Memoriam section tracking the wrestlers no longer with us from the 1800s through to 1989, with detailed obituaries for those who passed this year