---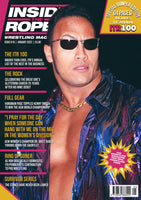 Inside The Ropes Magazine (Issue 16) - BUMPER ISSUE
Regular price £5.00
Tax included.
SPECIAL BUMPER ISSUE, 64 PAGES, NO EXTRA COST!

(Print Version)

The 16th issue of the magazine for REAL wrestling fans.


Featuring:

THE ITR 100
Back and bigger than ever, ITR ranks the top 100 wrestlers in the world!

THE ROCK
Celebrating the incredible career of Dwayne 'The Rock' Johnson, 25 years after his memorable debut at Survivor Series '96.
THE ECSTACY OF GOLD
Photos, review and analysis as Hangman Page defeats Kenny Omega to snare the AEW World Title in the headline bout of the superb AEW Full Gear. 

RING OF GONER
Ring of Honor as we know it is no more. ITR looks back on the influential promotion's important legacy and at what its future might hold.

DR BRITT BAKER
The AEW Women's Champion and undisputed star of the promotion's women's division speaks exclusively to ITR
SURVIVOR SERIES
The stakes have never been lower

BACK TO THE 90S
In a brand new feature, we jump into our time machine and go back 30 years to January 1992 . . .

THE BRITISH BULLDOG
Looking at the career of Britain's biggest ever superstar

PLUS..
Akeem
Starrcade
In Your House
WCW in 1995
Thunder Pro Wrestling Retsuden

. . . and more news, reviews, analysis and retro goodness than you can shake a kendo stick at.