---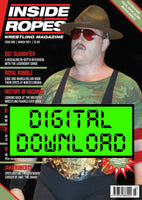 DIGITAL: Inside The Ropes Magazine (Issue 6)
Regular price $6.47
Tax included.
***PDF DIGITAL DOWNLOAD VERSION ONLY***
The sixth issue of the magazine for REAL wrestling fans.

Featuring:

SGT. SLAUGHTER INTERVIEW
A revealing in-depth interview with the legendary Sarge, conducted by Kenny McIntosh

THE HISTORY OF HASBROS, BRO!
Tom Fordy looks back at the greatest wrestling action figures ever made, featuring exclusive comments from Matt Cardona, Kevin Iddon and several Hasbro designers and developers!

ROYAL RUMBLE REVIEW
Justin Henry casts his eye on the 2021 Royal Rumble, a night of returns, surprises, legends and new blood rising.

PRIME TIME WRESTLING REMEMBERED
Brian Solomon recalls WWE's original Monday night tradition

THE BELT COLLECTORS
Kenny Omega is on a quest to become World Champion in multiple promotions. Liam Wyatt assesses his chances of achieving that and speaks to the original belt collector, Ultimo Dragon, for his insight on the challenges Omega faces.

THE ITR CROSSWORD
Yes, it's still here! The biggest and best wrestling crossword in the world!

HARD TO KILL
Fin Martin checks out Impact Wrestling's latest pay-per-view offering

JAKE ROBERTS
Spotlighting the memorable career of the great Jake 'The Snake'

GIANT GONZALEZ
Looking at the 8-foot monster's brief WWF run in 1993

FIRE MATCHES
Keith Elliot Greenberg shares his thoughts on the use of fire in modern wrestling

THE HURT BUSINESS
Bill Apter speaks to Booker T, Steve Corino and Ken Resnick about one of WWE's success stories of 2020: The Hurt Business.

TNA 2003
We go back in time to TNA's second year

PLUS..
The Dudley Boyz vs The Eliminators, Tecmo World Wrestling, WrestleMania XIX, Ric Flair, Goldberg, Hogan vs. Andre and more news, reviews, analysis and retro goodness than you can shake a stick at.