---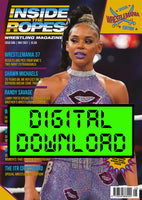 DIGITAL: Inside The Ropes Magazine (Issue 8)
Regular price $6.47
Tax included.
***PDF DIGITAL DOWNLOAD VERSION ONLY***
SPECIAL WRESTLEMANIA EDITION!!!

The eighth issue of the magazine for REAL wrestling fans.

Featuring:

WRESTLEMANIA 37
Results, pics and analysis from WWE's momentous two-night extravaganza

SHAWN MICHAELS
25 years on, Tom Fordy reflects on Shawn Michaels' "boyhood dream come true" and the impact his first reign as WWF Champion had on the wrestling business

RANDY SAVAGE
The Macho Man Randy Savage's brother Lanny 'The Genius' Poffo speaks to Inside The Ropes Magazine for an exclusive interview discussing his brother's legendary WrestleMania career

WRESTLEMANIA LIVE
At WrestleMania 37, for the first time in over a year, WWE had fans in the audience, and Inside The Ropes was lucky enough to be there to take in the action up close and personal . . .

THE ULTIMATE WARRIOR
Gary Cassidy looks back at the memorable career of wrestling real-life superhero

WRESTLEMANIA HISTORY
Brian Solomon delves into the history of WrestleMania and examines how it has grown into an international pop culture phenomenon

THE ITR CROSSWORD
A very special WrestleMania edition!

WRESTLEMANIA I
Bill Apter recalls having to sneak into the press conference for the first WrestleMania in 1985 due to the WWF's ban on wrestling magazines

WWF 1985
The year everything changed!

PLUS..
Ultimate Warrior vs. Rick Rude, WWF WrestleMania (Ocean) on the Amiga, WrestleMania IX, Hall of Fame, and more news, reviews, analysis and retro goodness than you can shake a stick at.