---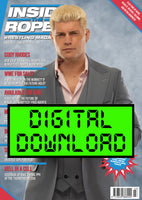 DIGITAL: Inside The Ropes Magazine (Issue 11)
Regular price $6.47
Tax included.
(Digital Version)

The 11th issue of the magazine for REAL wrestling fans.


Featuring:


The 11th issue of the magazine for REAL wrestling fans.


Featuring:

CODY RHODES
We talk exclusively with AEW's EVP about his relationship with Triple H, never being able to challenge for the AEW World title, his role behind the scenes, that finish at Revolution, Sting, Jim Ross and tons more!

WWE FOR SALE?
Is WWE really preparing to sell? We look at the evidence to support this and explore what the possible repercussions could be - both good and bad - if a sale were to go through.

AVAILABLE FOR HIRE
The wrestling scene is suddenly flooded with top level talent following WWE's numerous rounds of releases this year. Where are they all likely to end up?

MJF
The Pinnacle's villainous leader answers 20 questions.

BRAIN BUSTERS
Pro wrestling's attitude towards mental health and "insane" characters comes under the microscope.

SILVER VISION
We take a nostalgic trip down memory lane as we reminisce about the glory days of Silver Vision, the WWF's former UK VHS distribution partner.

RISING TIDES
Japanese wrestling is bouncing back from Covid, as two major shows in early June from New Japan Pro Wrestling and CyberFight demonstrated.

AHMED JOHNSON
A detailed look at the career of one of wrestling's most intriguing personas.

HELL IN A CELL
Results and analysis from WWE's final PPV of the ThunderDome era.

PLUS..
The Beverly Brothers
Popeye 3: Wrestle Crazy
In Your House
Against All Odds
More WWE Releases
Mabel
That's Gotta Be Kane
TNA Turning Point 2004
ECW in 1995
. . . and more news, reviews, analysis and retro goodness than you can shake a stick at.