---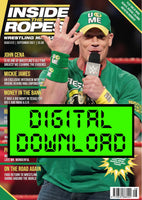 DIGITAL: Inside The Ropes Magazine (Issue 12)
Regular price $6.47
Tax included.
(Digital Version)

The 12th issue of the magazine for REAL wrestling fans.


Featuring:

JOHN CENA
WWE's franchise player is back and set for a blockbuster showdown with Roman Reigns at SummerSlam. Tom Fordy assess his legacy as he looks to answer the eternal question: is Cena one of wrestling's all-time greats or does he "suck"?

MICKIE JAMES
The brains behind NWA EmPowerrr speaks exclusively to ITR about a wide range of topics, including her hopes for EmPowerrr, her friendship with Billy Corgan, her thoughts on Evolution, her latest WWE run and much, much more.

MONEY IN THE BANK
The return of fans to the arena made Money In The Bank a special night for WWE. For briefcase winners Big E and Nikki A.S.H. it was a particularly memorable evening.

RHEA RIPLEY
The former RAW Women's champion answers 20 questions.

ROCK 'N' WRESTLING
James McMahon explores the curious and lengthy relationship between the worlds of WWE and music.

PAUL ORNDORFF
Keith Elliot Greenberg pays tribute to the man known as Mr. Wonderful, who passed away last month.

ON THE ROAD AGAIN
AEW returned to the road in July and we were there to witness it.

DEMOLITION
A look back at the career of one of wrestling's most memorable tag teams.

WRESTLE GRAND SLAM
NJPW found itself in a predicament prior to its return to the Tokyo Dome. Thankfully, they had an Ace in the hole to call upon . . .

PLUS..
The New Blackjacks
Super Fire Pro Wrestling Special
Slammiversary
Wrestling in Kenya
The Fiend Released
Justin Credible
Eric Bischoff
Survivor Series '90
WWF in 1989
. . . and more news, reviews, analysis and retro goodness than you can shake a stick at.