---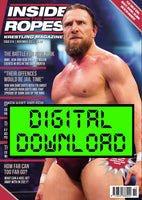 DIGITAL: Inside The Ropes Magazine (Issue 14)
Regular price £5.00
Tax included.
(Digital Version)

The 14th issue of the magazine for REAL wrestling fans.


Featuring:

THE BATTLE FOR NEW YORK
WWE, AEW and GCW all presented major events in New York City in September. Keith Elliot Greenberg was on the scene to take in all of the action and talking points, including a blockbuster bout between Kenny Omega and Bryan Danielson.

"THEIR OFFENCES WOULD BE JAIL TIME"
The ever-candid Rob Van Dam speaks exclusively to ITR about his memories of 9/11 and the Invasion 20 years on, the fallout from that episode of Dark Side of the Ring, mocking Shawn Michaels and much, much more.

OWEN HART AND AEW
Following the announcement that AEW will be working with Martha Hart and the Owen Hart Foundation to create the Owen Hart Tournament, we look back on the illustrious career and legacy of the late, great King of Harts.

THE WWF INVASION SAGA
20 years ago, every wrestling fan's dream scenario came true when WCW and ECW went to war with the WWF. Brian Solomon, who was working in the WWF's magazine department at the time, recalls how the dream quickly turned into a nightmare.

THIS IS NOT EXTREME
WWE's latest pay-per-view offering, Extreme Rules, was a perfectly good wrestling show, but it was a long way from "extreme"

HOW FAR CAN TOO FAR GO?
After Max Caster caused controversy with a rap on AEW Dark recently, James McMahon examines how the role of the wrestling heel has changed in 2021, for the better and the worse.

NXT 2.0
Did it live up to the hype? Findlay Martin and Sondra Ruth give their thoughts on WWE's new-look Tuesday night show

JEFF JARRETT
Double J answers 20 Questions. Ain't he great?

DOINK THE CLOWN
We spotlight the career of the WWF's (sometimes) sinister clown - a much better character and wrestler than he is often given credit for.

PLUS..
The Warrior in WCW
9/11 SmackDown
Halloween Havoc 91
USWA in 1993
Free For All!
SmackDown! vs RAW
. . . and more news, reviews, analysis and retro goodness than you can shake a kendo stick at.