---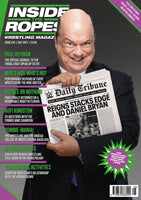 Inside The Ropes Magazine (Issue 10)
Regular price £5.00
Tax included.
(Print Version)

The TENTH issue of the magazine for REAL wrestling fans.


Featuring:

PAUL HEYMAN
The Special Counsel to the Tribal Chief talks all things Roman Reigns, Brock Lesnar, his run as Raw Executive Producer and much more in this exclusive chat.

WHO'S HOT, WHO'S NOT
Performance reviews of every wrestler on the WWE main roster, as the promotion prepares for the return of live fans next month.

DOUBLE OR NOTHING
AEW put its best foot forward in front of a capacity crowd at Daily's Place and delivered the feel-good show of the year.

KOFI KINGSTON
The New Day man and former WWE Champion talks exclusively to ITR for our brand new 20 Questions feature

ZOMBIE-MANIA!
WrestleMania Backlash will forever be remembered as "The One With The Zombies", but is that a fair assessment?

BLOOD AND GUTS
Can blood-soaked wrestling still work in the mainstream? We examine the evidence.

PARANORMAL ACTIVITIES
Charting the long history of crossovers between wrestling the horror genre.

MR. PERFECT
A detailed look at the career of one of the mat game's all-time greats

NIGERIAN WRESTLERS
Are they the new Samoans?

PLUS..
Marc Mero, WWF War Zone, New Jack, WWE Releases, Eva Marie, Jim Cornette, The Ultimate Warrior, ECW Living Dangerously '99, WWE in 2014, and more news, reviews, analysis and retro goodness than you can shake a stick at.