---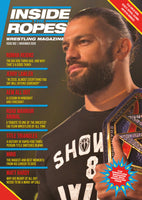 Inside The Ropes Magazine (Issue 2)
Regular price $3.88
Tax included.

(Print Version)

The second issue of the magazine for REAL wrestling fans.

Featuring:

ROMAN REIGNS
An in-depth look at Roman Reigns' heel turn and why it is a good thing that The Big Dog has turned bad.

JERRY LAWLER
In this month's bumper exclusive interview, Findlay Martin speaks to Jerry 'The King' Lawler for the first time.

TITLE TRIANGLES
A history of rapid-fire three person title switches in WWE

AEW ALL OUT
AEW's latest PPV offering was a lesson in hindsight and foresight

WWE CLASH OF CHAMPIONS
It was a family affair at the WWE ThunderDome

WRESTLER SPOTLIGHT
ECW's Edgar Allen Poe-inspired icon Raven
THE ITR CROSSWORD
Yes - it's back! And even bigger!

MIRO
Looking at the biggest and best moments from the former Rusev's career

MATT HARDY
Why his frightening injury at All Out needs to be a wake-up call

WRESTLING VIDEO GAMES
Stevie Aaron reviews WWF SuperStars on the Game Boy

INSIDE ITR
Kenny McIntosh shares exclusive behind the scenes road stories from Inside The Ropes - this month the Stu Bennett tour.

THE NIGHT THE BELT CHANGED HANDS
Steve Austin vs Ricky Steamboat

POWER SLAM FEATURES RETURN
Findlay Martin returns with classic Power Slam features including What's Going Down, Q&A, That's A Shoot Brother and more!

EXCLUSIVE COLUMNS
Legends of wrestling print journalism return with columns from Bill Apter, Keith Elliot Greenberg, Brian Elliott, Scott Keith and Justin Henry

PLUS..
WCW Halloween Havoc '98, Sid Justice, Sting, WWF in 1991, Papa Shango, Cody and more news, reviews, analysis and retro goodness than you can shake a stick at.