---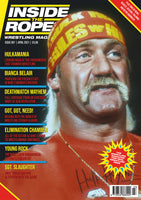 Inside The Ropes Magazine (Issue 7)
Regular price $3.88
Tax included.
***AVAILABLE NOW!!!***
(Print Version)


The seventh issue of the magazine for REAL wrestling fans.

Featuring:

HULKAMANIA
Tom Fordy takes a deep dive into the global phenomenon that changed the wrestling business forever.

GOT, GOT, NEED!
Ash Rose delves into the fascinating history of wrestling sticker albums, documenting their evolution over the years and their surprising longevity.

THE FRESH PRINCESS BELAIR
Liam Wyatt profiles the freshest and most exciting act on the WWE roster, Royal Rumble winner Bianca Belair.

COLLISION COURSE
Justin Henry casts his eye over AEW Revolution, featuring the in-ring return of Sting and an explosive barbed wire death match main event between Kenny Omega and Jon Moxley.

SGT. SLAUGHTER
Part two of Kenny McIntosh's epic interview with the legendary Sgt. Slaughter. This month, Sarge talks about wrestling Hulk Hogan at WrestleMania VII, the Ultimate Warrior situation at SummerSlam, becoming WWF Commissioner and his first-hand account of what happened that infamous night in Montreal . . .

ELIMINATION CHAMBER
The Miz shocks the world and becomes WWE Champion again . . . for a eight days.

BRUTUS BEEFCAKE
Gary Cassidy takes a look back at the career of The Barber.

BASTION BOOGER
Not one of Vince McMahon's finest creations . . .

IT'S ALL ABOUT PRESENTATION
Sondra Ruth examines the aesthetic differences in how men and women are presented in WWE.

YOUNG ROCK
The great Bill Apter speaks to The Rock's family about his new smash hit comedy show.

ECW 1994
ECW crossed lines and made history in 1994, as Justin Henry explains.

PLUS..
Ric Flair vs. Kerry Von Erich, WCW SuperBrawl Wrestling, SummerSlam '89, the ITR Crossword, The Dusty Classic, and more news, reviews, analysis and retro goodness than you can shake a stick at.