---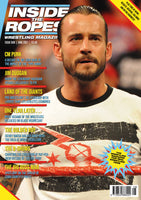 Inside The Ropes Magazine (Issue 9)
Regular price $3.88
Tax included.
***AVAILABLE NOW!!!***
(Print Version)

The ninth issue of the magazine for REAL wrestling fans.


Featuring:

CM PUNK
A decade later, we look back at CM Punk's famous "pipe bomb" promo and what its lasting impression on the business was.

HACKSAW JIM DUGGAN
Hacksaw speaks candidly about his career in this month's exclusive interview.

ONE YEAR LATER . . .
How have 2020's Black Wednesday releases fared since leaving WWE?

LAND OF THE GIANTS
We take a look at professional wrestling's long love affair with giant athletes.

B-SHOWS
The history and evolution of wrestling's secondary PPV events.

THE BIG BOSS MAN
Spotlighting the career of Cobb County's finest.

LETTERS
For the first time, we print your views on the sport we love.

THE LEX EXPRESS
The WWF was desperately seeking the next Hulk Hogan in 1993. Lex Luger and his tour bus were not the answer.

WCW 1991
Ric Flair walks, Abdullah the Butcher gets fried and fans turn on the promotion. Just another typical year in the life of WCW.

PLUS..
Samoa Joe vs. Xavier, WWF Battlegrounds, Impact Rebellion, Alexa Bliss, comedy wrestling, loose cannons, King of the Ring 1993, and more news, reviews, analysis and retro goodness than you can shake a stick at.